Prevent Burnt Oils: Double liquid jacketed tanks won't burn your oils and preserve the quality your customer deserves!
Sloped Bottoms: Sloped bottoms to ease cleaning and prevent wasting unused oils at the bottom of the tank.
Easy Pouring: All tanks come with ball valves for easy dispensing. We also sell Heated Ball Valves if your product is prone to quick hardening, like wax.
Decrease Labor:

Our tanks are perfect for masterbatching. Combine your material once a week and use until it's gone!

Increase Production: You can produce a lot of soap or candles efficiently.
Save Time & Money: Less labor, less cost per bar – Equals more profit!
Built to Last: All stainless steel construction.
Versatile: Use for Oils, Candle wax, M&P, Honey, and more
Easy to use and maintain: Sloped bottom for easy cleaning. Keep your jacket full of water, and your tank is good to go!
No pumps needed: Tanks are designed for easy dispensing into molds, pails, or other containers.
Double jacketed tanks suited for all of your heating needs.
Sloped bottoms on most sizes help prevent waste and improve efficiency.
Indirect heat and regulated temperature ensures no risk of burning your material.
Extremely easy to setup, clean, use, and maintain.
Versatile for use with any product that requires even, controlled heat.
Large sizes available to masterbatch your product, saving you time and money.
Best used in conjunction with our Pot Tippers for optimum efficiency when making Cold Process soap.
All fittings (inner and outer jackets, lid) are 304 Stainless Steel.
Inlet and Outlet fittings to quickly cool your product for dispensing.
Our tanks are used across multiple industries. Have a question about your particular application? Contact us.
Ball Valve
Heating Unit
Tank Lid with Handle
Oil Heater
Insulation Jacket
Timer
Tank Scales
Stand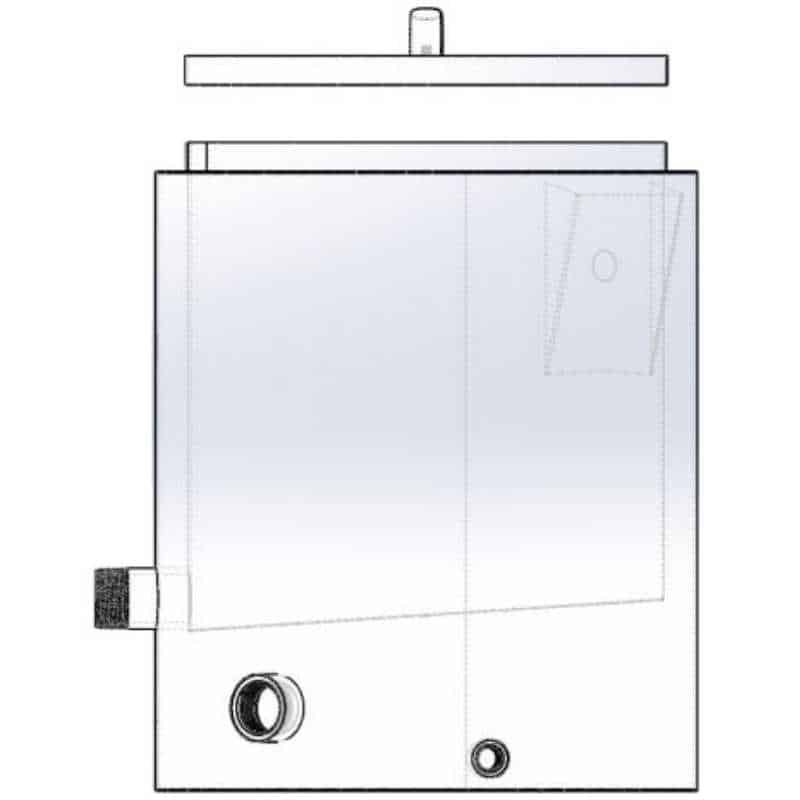 Sloped Bottoms on most of our tanks at no extra charge!
Liquid Jacket (Indirect Heat) vs. Direct Heat Tanks:
Jacketed tanks are used to indirectly heat oils – which prevents the oils from burning/oxidizing in turn.

Liquid jacket tanks hold a liquid (usually water or propylene glycol) in the outer jacket
A heating element near the bottom of the tank heats the liquid, which then heats the material in the inner jacket of the tank.
The liquid disperses to heat the material evenly, and prevents hot spots/scalding/burning/oxidation.

For a detailed scientific review of the effects of oxidation on common oils, please see this review article.

Jacketed tanks act as a double boiler, similar to a bain-marie in cooking. It is the same principle used when melting chocolate, or baking cheesecake.

How-to books and online formulas generally require a double boiler for balms, liquid soaps, and lotions.
A double boiler (jacketed tank) is a good start for beginners to make small batches, and it helps eliminate the possibility of overheating or burning your oils.

When you scale up production, you want to keep direct heat from your oils while making larger batches – this is the exact reason we designed our tanks.
Any tank without a liquid jacket is a "direct heat" tank.

These tanks can still have jackets, but the heating mechanism is different.

Direct heat tanks have heating coils between the inner and outer jackets. These coils heat your oil.
Shouldn't be used while heating most oils because hot spots in the tanks will oxidize the oils.

Different oils have different oxidative stability and will react differently to direct heat. However, regardless of the type of oil, applying direct heat will degrade and oxidize the oils.
Try melting chocolate by melting it with a frying pan, and you will see this principle in action.

Direct heat tanks can heat up slightly faster (25%), but are less energy efficient.

Slightly faster can be helpful for material with high oxidative stability, such as candle wax, but is an issue with other oils. The oils heat faster because they are directly in the tank, but this burns material with a lower oxidative stability.
Direct heat tanks have a much higher incidence of fire haxard. Coils and band heaters can burn out, which can result in sparks.
If it does not have a "Liquid Jacket," it is a "Direct Heat" Tank. If you are making any quality handcrafted product, do not use a Direct Heat Tank.
Tank Options & Specifications:
Tank Size Capacity & Dimensions
| Gallons | 6 | 13 | 20 | 45 | 60 | 85 | 125 |
| --- | --- | --- | --- | --- | --- | --- | --- |
| Capacity – Liquid | 6 Gal / 22.7 L | 13 Gal / 49.2 L | 20 Gal / 75.7 L | 45 Gal / 170.3 L | 60 Gal / 227.1 L | 85 Gal / 321.7 L | 125 Gal / 473.1 L |
| Capacity – Weight | 48 lbs / 21.8Kg | 100 lbs / 45.4Kg | 160 lbs / 72.6Kg | 360 lbs / 163Kg | 480 lbs / 218 Kg | 680 lbs / 308 Kg | 1000 lbs / 454 Kg |
| Outside Height | 18.7″ / 47.5 cm | 21″ / 53.3 cm | 25″ / 63.5 cm | 29″ / 73.7 cm | 33″ / 83.8 cm | 37″ / 94 cm | 45″ / 114.3 cm |
| Outside Diameter | 13″ / 33 cm | 18″ / 45.7 cm | 19.75″ / 50.2 cm | 26″ / 66 cm | 28″ / 71.1 cm | 31″ / 78.7 cm | 32″ / 81.3 cm |
| # of Heating Elements | 1 | 1 | 1 | 1 | 1 | 2 | 2 |
| Standard Power Draw | 12.5 Amps | 12.5 Amps | 12.5 Amps | 14 Amps | 21 Amps | 21 Amps Each | 21 Amps Each |
| Shipping Options | UPS | UPS | UPS | Freight | Freight | Freight | Freight |
Heater Box Plug Type & Amps
| | 120V / 1,500W | 220V / 3,000W | 220V / 4,500W |
| --- | --- | --- | --- |
| Plug Type | 5-15P Standard | Nema 6/20p | Nema 6/30p |
| Amperage | 12.5 Amps | 14 Amps | 21 Amps Each |
Below are a few examples of custom tank designs. Contact us for a quote on your Custom Tank System.
Insulate Well: Insualte your tank with our tank jackets. For maximum effeciency and high temperature heating, use Propylene Glycol in place of water. More on this below!
Use a Tank Scale: Keeping your tank on a scale full-time allows you to measure the material that is going in and going out at all times.
Use a Timer: This will eliminate standing around waiting for your material to heat up – timers make sure it is ready when you want it ready. We sell easy-to-install timers on our website.
Masterbatch Oils: Masterbatching is one of the most efficient uses for our tanks.

Fill the tank up with the correct ratio of base oils. When your material gets low, add more oils based on your ratio.
You can do this for one day or for a week.
Use the SoapMaker software if you need help with your formulation.

Easy Bottling: You can attach our Easy Fill Bottler directly to the tank with our kit.

We suggest that the tank bottom be level with the bottom of the Hopper.
A straightforward way to raise and lower the tank is to use a lift. The lift allows you to lower the tank to fill and mix, then raise it to dispense.
Heating to High Temperatures:
When heating above 170°F, we recommend:
Propylene Glycol:

PPG allows you to get above the boiling point in the outer jacket, making it much easier to transfer heat to the inner at higher temperatures.
PPG is safer and more efficient than boiling water, which can cause steam, dripping, condensation, etc.
It retains heat longer and is more energy efficiently

If you're using propylene glycol, make sure it has a corrosion inhibitor. The inhibitor keeps the solution from damaging the element.
Use a 30-40% solution, 3 parts PPG to 7 parts water.

High Wattage Element:

The higher the element wattage and voltage, the easier it is to get to high temperatures

Tank Insulation:

Use two of our tank insulation jackets, layered upon each other.
Place tank on 1″ (25mm) or thicker Styrofoam pad, with a piece of plywood, Masonite, or OSB between the tank and foam.

Keep Lid Closed:

Don't open the lid more than you need to. Constantly checking oil temperatures will let heat out.
Many factors come into play when determining your heating time, such as:
Material Temperature
Desired Temperature
Tank Insulation
Amount of Material
State of Material (Liquid, Chunks)
Melting Point of Material
Ambient Temperature of Environment
The larger the chunks, the slower the material will heat. The more contact you have to the tank surface, the faster the transfer of heat.
Tip: To turn blocks of material into chunks, take a small wire and wrap around two short 3/4-1″ (19-25mm) dowels or sticks. Tape so the wire does not poke the fingers. Pull this through the block to cut it up into chunks. It is fast and saves heating energy.
Below are approximate temperature change calculations – Both assume 70° ambient air temperature and that you are heating a full tank.
15 Gallon Oil Heater (120V/1500W)
| Temp Change (°F) | Time (Hours) |
| --- | --- |
| 10° | 0.24 |
| 20° | 0.48 |
| 30° | 0.72 |
| 40° | 0.96 |
| 50° | 1.20 |
| 60° | 1.44 |
| 70° | 1.68 |
| 80° | 1.92 |
| 90° | 2.16 |
| 100° | 2.40 |
35 Gallon Oil Heater (120V/1500W)
| Temp Change (°F) | Time (Hours) |
| --- | --- |
| 10° | 1.12 |
| 20° | 2.25 |
| 30° | 2.37 |
| 40° | 4.49 |
| 50° | 5.61 |
| 60° | 6.73 |
| 70° | 7.85 |
| 80° | 8.97 |
| 90° | 10.09 |
| 100° | 11.21 |
35 Gallon Oil Heater (220V/3000W)
| Temp Change (°F) | Time (Hours) |
| --- | --- |
| 10° | 0.55 |
| 20° | 1.11 |
| 30° | 1.66 |
| 40° | 2.21 |
| 50° | 2.76 |
| 60° | 3.31 |
| 70° | 3.86 |
| 80° | 4.41 |
| 90° | 4.96 |
| 100° | 5.51 |
Mixing to Trace in Oil Heater
Question:
Is it possible to mix the base oils, water, and lye for tracing in the Oil-Wax Heater (Melter)?
Answer:
It is not the most efficient way to mix your oils and lye, but for small production, that can work. However, there is a chance that it can thicken to the point you can't pour it out. Be careful and watch your trace.
Question:
As a time-saver, can I premix my oils in the heater and use them up over a week or more? Can the oils be reheated each day or continuously left at 110 degrees without unacceptable degradation?
Answer:
Yes, you can premix and heat your oils and use them over several days or a week.
Using an insulation jacket will keep the tank warm for a couple of days – not at 110 degrees but where it is very easy to reheat.
Several options are available so that you don't have to wait so long for the oils to heat up, which are also very cost-efficient.
Use an insulation jacket on your tank.
Put your heater on a timer so that it kicks on before you start your morning.
Adding Essential or Fragrance Oils
Question:
Can I add essential / fragrance oils directly in the tank while making CP soap?
Answer:
We do not recommend this, but you can do it. If the batch seizes up or becomes too thick of a trace, you will have to dip it out. This is not the most efficient method, but it can work for light to moderate production.
If you must mix in the tank, it would be best to bring the base oils and lye to a light trace. Then, transfer it to 5-gallon buckets and mix your FO's, etc., in there. Always test your scents before making a large batch; some can seize very quickly.
Do I need an Outlet Plug?
Question:
Do I need an Outlet Plug?
Answer:
Outlet plugs work best when mixing lotions, deodorants, powders with liquids, etc., that require constant suspension, and for formulations that must be mixed and kept mixed thoroughly. If you are constantly renewing a base, applying the plug with hot liquid will be difficult.
If you want to avoid using the Outlet Plug, it is easy to dispense a little material and pour it back into the tank a few times through the process.
Pouring into Small Containers
Question:
What is the best way to pour into small containers?
Answer:
If you aren't ready to move up to our Easy Fill Bottler, try our Ball Valve Reducer. This reducer takes the ball valve's 1.5″ flow down to 3/8″ for better control with narrower/smaller containers.
Question:
We are worried our cream will be too thick to dispense from your tanks. Since the liquid will be too thick for the ball valve, is there any way to tip the tank?
Answer:
There should be no problem dispensing from our Water Jacketed Tanks. The tanks are water-jacketed and use a spout to fill and maintain the jacket liquid. Therefore, you cannot tip them. See our Pot Tipper page for a proper mixing vessel.
The Ball Valve on all tanks from 13 gallons up is 1.50″ (38mm). This size allows about any liquid to pass through. Generally, most lotions and creams need to stay suspended around 100° – meaning that the product can be warmer when dispensing and will be much thinner.

Question:
Do you have and will you install timers on your Oil-Wax Heater (Melter) for automatic turn on?
Answer:
We can put timers on the units. They are digital timers with a battery backup. The timers are hard-wired and left loose and mountable to a stand or wall.
Question:
I'm assuming the 6 Gallon Oil Heater Tank works similar to a crockpot, and that M&P soap could stay in there for several hours without dehydrating?
Answer:
Yes, it is the same principle. Because our tanks are water-jacketed, our product will not scorch, and you don't have to worry about hot spots. Keeping the lid on your tank will prevent dehydration, and you can leave your base in the tank for hours.
Question:
Can I use your Oil-Wax Heater (Melter) for candle wax and beeswax? Also, it is hard to tell if there are spigot valves for pouring into small containers.
Answer:
Yes, our Oil-Wax Heater (Melter) s will melt beeswax, candle waxes, and M&P. The tanks come with Ball Valves, which control large volume flows.
If pouring into bottles or small cavities such as for M&P molds, etc., it is best to reduce to a smaller valve such as a ½" (1.3cm) ball valve. We recommend using our Heated Ball Valve assembly with these materials. The flow reduces to 3/4″, and the heat will prevent your valve from clogging.
Question:
I am interested in your stainless steel container for pasteurizing milk. Is the jacket entirely around it? Can I run 165° water around the inside tank to heat milk to 160°?
Answer:
Yes, the jacket goes all the way around, bottom and sides. There is an inlet and outlet, so it would be easy to run the water through.
We designed our tanks to go beyond the boiling point. 160 to 180°F temperatures used for making liquid soap, so I see no problem with milk.